See Where You're Getting Fat and We'll Tell You How to Fix It ( full credit to David Wolfe)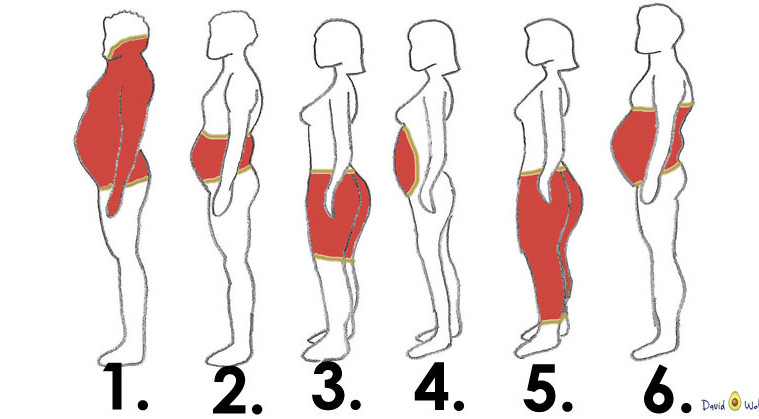 There are two types of body fat distribution: Android and Gynoid
According to PositiveMed:
"An 'android' fat distribution pattern is so called because more men than women exhibit it.
You may have heard it described as an 'apple' body type when the waist circumference is greater than that of the hips."
and…
"A 'gynoid' distribution is most commonly seen in women. This is what many call the 'pear' body shape.
In this pattern, hip circumference is greater than waist circumference."
Let us break down the numbers for you!
Fat image
1. Upper Body Obesity (Android)
This typically means one is eating too much and not exercising enough. Try cutting back on the sweets,
and try exercising for 30 minutes a day. If this does not help, see a healthcare professional.
2. Stomach-Centered Obesity (Android)
Extra weight in this area can be caused by stress, anxiety or depression.
Pairing exercise and relaxation techniques may be the best method to fix this problem.
Again, seeking the help of a healthcare professional or therapist is advised.
3. Lower Body Obesity (Gynoid)
This is a common problem for most women. Exercises that incorporate lower-body resistance training,
paired with cardiovascular workouts, are essential to removing this fat issue. This area can be difficult.
Do not hesitate to ask for help.
4. Swollen Stomach Obesity (Android)
Fat in this area can be caused by excessive alcohol consumption and/or breathing difficulties.
Try to reduce the amount of alcohol consumed and focus on some breathing exercises.
Proper breathing is an entire torso exercise.
5. Lower Body Obesity that Includes Lower Legs (Gynoid)
This most often occurs in those who are pregnant. The legs may be swelling.
Try water aerobics to take pressure off the leg and feet joints, and sit with the feet raised.
6. Large, Protruding Stomach with Upper Back Fat (Android)
This is similar to type one in that inactivity causes it. Exercise is vital but so is keeping blood sugar levels stable.
Don't go too long without eating and try to eat in small increments.
Knowing what is needed for a certain fat issue is key to developing the best method to remove the fat.
However, hormonal and genetic issues should be ruled out or considered if weight loss plans are not working.
A health care professional will be able to help you!
To read more about this topic check out http://www.davidwolfe.com/getting-fat-fix-it/?c=pwf&vp=hthdig
Remember to always Be Fabulous!!
Luv Wendy