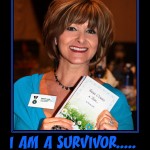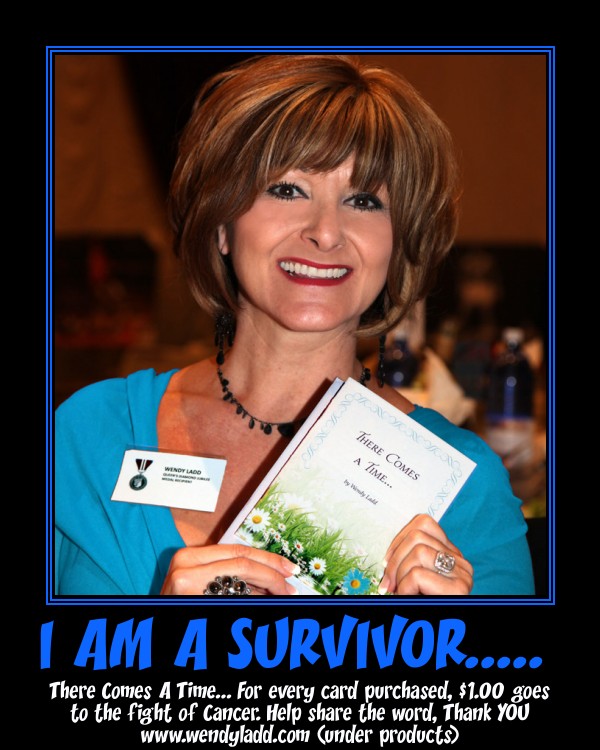 SHOUT TO THE WORLD.... " I AM A SURVIVOR".....
"There Comes A Time" Poem was written at a point in my life on September 13, 2009 , three o'clock in the morning when things were not looking so happy and positive.  I  had lost my best friend Christie Girl of 15 years, ended a serious relationship, found out that some close, trusted people weren't exactly who and what they said they were, and found my self dealing once again with past health issues from all the stress and anxiety.
I sat and poured out my heart to myself through this poem, and the poem sat for three years on my laptop.    It was during this time that someone asked me.... "Tell me something that no one knows about you" , my answer was.. "I am a cancer survivor".  In this moment my insides gasped at I looked into the eyes of the woman who asked me this question and finally I was able to set myself free. Who on earth was this woman, a complete stranger,  that allowed me to feel so safe to release my deepest fear, my darkest secret, my story of cancer.  I am happy and blessed to share her name with you: The fabulous, Tina Dezsi,  Founder of T&E Health Pros Inc.  I will remember this day forever. The amazing thing is she really didn't even have a clue of the door she helped me unlock.  The moral to the story is,  you just never know when or where, or mostly how, you will help someone by just being the most Fabulous Authentic YOU!!  Thank you Tina. xoxo
My life from 19-28 was full of being poked and proded, 3 major surgeries, a few smaller surgeries,  and drugs to help numb the pain.  Thankfully I fought the fight for nine years and won.  I now openly share with the world, thanks to Tina,  that ' I AM A SURVIVOR"  I am now twenty years of being cancer free and have finally taken a step forward to share my story, and to help others fight their fight.  I kept my story to myself, even to those very close to me as I was afraid they would look at me as weak or judge me and be afraid.  As a strong, successful business woman who worked in a very male dominating environment, in the automotive industry, I needed to do whatever it took to make it through, and this I did pretty much alone. Today I celebrate as I have a much bigger vision for the future.   I am definitely stronger emotionally and mentally now, healthy through and through, and it is no longer about me and my fight.
My poem "There Comes A Time" has been published, November, 23rd,  2012,  and is now a greeting card for sale on my site www.wendyladd.com and will be available soon in retail card stores.  A video production was filmed with some amazing people who all stepped up to make a difference by sharing a line, and the moment of sadness when I wrote this poem, has become a moment of such JOY and HOPE. I am so happy and inspired when people stop me and share that there was one particular line that meant something so special to them. They shed a tear and had their own special,  personal , internal intimate moment.   I am inspired by everyone to continue to share my journey with others, to help them Heal and move forward with their own personal fight.  I am donating $1.00 for every card that is purchased through the website to the fight against cancer.
To view the published poem video, "There Comes A Time"  go to :   http://www.youtube.com/watch?v=uqW9J1I10Ic
If you feel inspired please share with your friends.
There are so many things I want to do and share with this world as our time here is so very short and precious.  I want to begin with donating and inspiring others to fight their fight, win their battles, and become SURVIVORS.  I believe it is not only the battle of cancer we fight daily, but the battle of health and every day life.
With all of this experience I have created a peronalized pH balanced accountability program, which all begins with a simple and easy, personal one on one coaching call.  My goal is to help you realize how important it is for your health to have a pH balanced diet, monitoring your pH levels through the right balance of alkaline and acidic foods.  It is a proven fact that cancer does not survive in an alkaline envirnoment.
I encourage anyone who has any questions or needs further details to email me at wendy@wendyladd.com  If you have ever had any personal challenges with your weight like myself, and thought your size defined YOU,  I look forward to hearing from you as well, and sharing this amazing journey of life with you.   I am excited to share this program and my greeting card with the world,  and I hope somewhere, somehow, you feel inspired to come on this journey with me
We only have one life to live..... Don't wait until it's too late... Get to your natural state of weight.
Luv Wendy