With the Fall Weather upon us and a high abundance of super delicious Macintosh apples it's the perfect time to give this recipe Baked Apples a Try. I know it sounds like it's such a simple recipe and who actually needs a recipe for baked apples, however I was surprised as I spoke with others, just how many people have never tried it before, so I wanted to share it with you.
You can enjoy this recipe with a scoop of frozen yogurt as well or serve it up as it.
INGREDIENTS
As Many Apples as you like, I used 4
Cinnamon
Nutmeg
Organic Brown Sugar
Organic Butter
Organic Nuts, Walnuts, Cashews, Almonds
Organic Raisins
1 pan deep enough for the apples to sit in comfortably. My pan used is a glass pan
Optional: Frozen Vanilla Yogurt
DIRECTIONS
First off- Wash your apples and wipe dry with a towel
Use a paring knife to cut the top of the apples.
Cut off the steam and make a circle cut around the top of the apple, so you can hollow out the apples.
Remove all the pits and core with a spoon, except leave just half an inch at the bottom of the hollowed apple so ingredients do not fall out.
Crush the nuts and cut up the raisins.
Place a scoop of brown sugar in the bottom of the apple
Place a scoop of the crushed nuts and raisins on top of the brown sugar
Cut a small chunk of butter and gently place on top
Sprinkle with Cinnamon and Nutmeg
Place in a deep dish pan and surround the apples with about 1 inch of water.
Cook at 375 degrees for 30 minutes
Place apples in a bowl and enjoy
You can also add a scoop of Vanilla Frozen Yogurt if you like, depending on your taste.
HEALTH BENEFITS
Remember that Apples have hardly any calories. A medium apple is about 80 calories. It has 0% Saturated Fat, High in Fiber, No Sodium and High in Vitamin C. Apples do have sugar so make sure you eat them in the morning and afternoon, and not before bed.
I am sure you heard the expression, "An apple A Day, Keeps the Doctor Away", and whoever made it up was right.
Apples are high in Thiamine for healthy mental and cardiovascular functioning, and also Riboflavin which keeps your immune system strong. Lastly lots of minerals like Potassium, Calcium, and Phosphorous.
So enjoy your Baked Apples and Remember to Always Be Fabulous!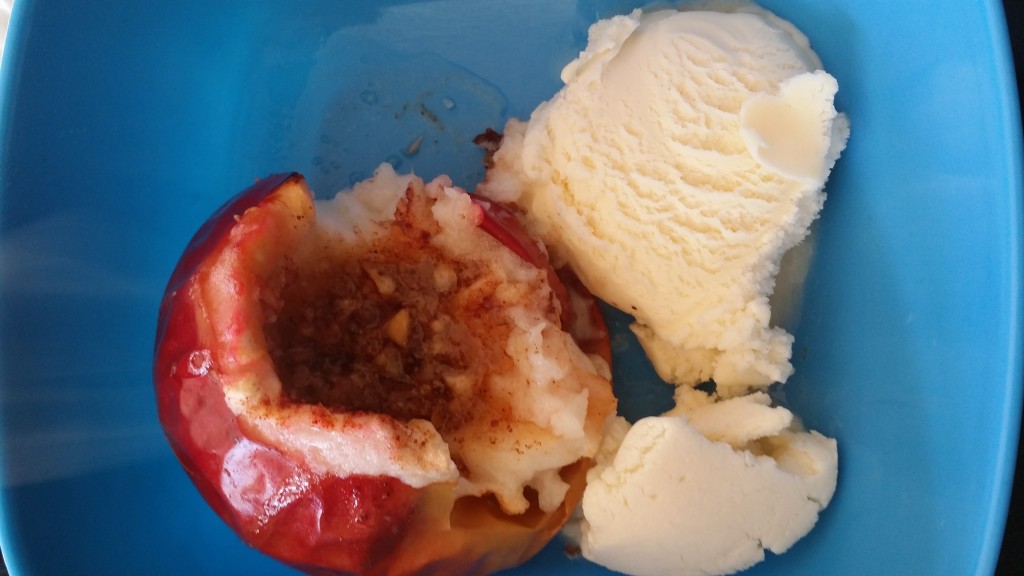 Luv Wendy