Fab, Fit and Fantastic Wendy Ladd
2013-01-08 18:51:00
| Today's BusinessWoman Article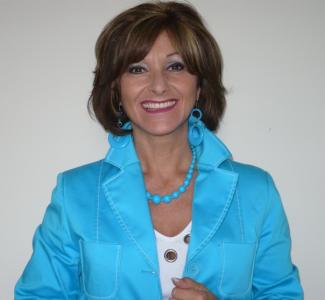 In the "Spot"light
Fab, Fit and Fantastic Wendy Ladd
by Sandy Widmer
How many of you have seen the TV/webshow called Fabulous,Fit & Fantastic Living? The program gives tips on living healthy and features interviews with special guests who have inspirational, life changing stories and journeys to share.
The producer and host of that show is Wendy Ladd. This exciting woman is one of us—a Canadian—fromToronto. For over 20 years, she was a top performing Fleet Sales Manager with a GM dealership. Then she decided it as time to "live her dream" and is now a life coach speaker, executive auto recruitment specialist, and TV host. No wonder she's Fabulous, Fit and Fantastic!
Wendy has designed a simple, easy, everyday living/eating program called Fabulous, Fit & Fantastic that teaches and helps others to get to their "natural state of weight" (while ensuring the correct PH alkaline/acidic balance).
Wendy has experienced the daily struggle of trying to eat healthy and the ups and downs of weight loss; she understands the self-esteem issues associated with yo-yo dieting, how it affects one's emotions daily, and the pressure from society which says that "skinny" is beautiful. In the past, she felt that to be successful, and worthy, she had to be thin, that "perfect size we all desire to be"— impossible for her, as none of the women in her family are petite.
When her mother became seriously ill, Wendy set out on a quest to find some way of helping her heal. In the process of researching, she found the way to her own personal healing. It was a relevation to her. She now knows that being healthy is what is beautiful, and true happiness comes from living in one's "natural state of weight", secure, content, and at peace in one's "own skin". The truth is: YOUR SIZE DOES NOT DEFINE YOU. Be happy in your natural state of weight, be the best you can be! God gave you the gift of YOU, so you are not like someone else.
Wendy decided to share this truth with the entire world! For too long, she says, we have lived in the shadow of our own true selves. Fabulous, Fit & Fantastic was created because she believes beauty is from the inside out— body, mind, and soul.
Wendy sees a huge movement of women, living in their "natural state of weight", who are happy, proud, and grateful. She sees a world, full of all our imperfections, becoming as perfect as it can be—us all together. Wendy feels that God will give her the voice to speak, share, and encourage women around the world, to truly impact their lives and their sense of self esteem and belief in themselves. It is time, she says, to step up and step out and accept your body and yourself for exactly what it is and who you are!
Wendy is currently writing a book on the hows and whys of eating properly to maintain a balanced PH—alkaline and acidic. In this book, Wendy describes how she came to live in her "natural state of weight" and found contentment and joy. It's a book you'll be able to carry in your wallet or purse to keep your PH balance on track.
_________________________________________________________________________________________
COMMENTS
1 2 3 4 5 6 7 8 9 10 11 12 13 14 15 16 17 18 19 20 21 22 23 24 25 26 27 28 29 30 31 32 33 34 35 36 37 38 39 40 41 42 43 44 45 46 47 48 49 50 51 52 53 54 55 56 57 58 59 60 61 62 63 64 65 66 67 68 69 70 71 72 73 74 75 76 77 78 79 80 81 82 83 84 85 86 87 88 89 90 91 92 93 94 95 96 97 98 99 100 101 102 103 104 105 106 107 108 109 110 111 112 Next
« Back