Plant Proteins
Posted on March 11, 2018 by Wendy There have been 0 comments
As I have been charting my intake
of healthy fats, proteins, and veggies
I came across this great article from
Dr. Robert O Young about how to
get your protein without eating animal
protein.
Protein Love Affair
Protein is an essential nutrient which plays many key roles in our bodies,
but despite America's love affair with high protein, our bodies don't actually need that much.
Dr. Robert O. Young says, "Our bodies are only 7% protein.
In contrast to cow's milk, which is protein rich, human mother's milk is
only 5% protein (i.e., better suited to the body's protein requirements).
In addition, animal protein foods often contribute factors to the body,
which are unneeded and then represent a challenge to dispose of (e.g., saturated fats)."
The recommended daily intake of protein is .8 grams of protein for every kilogram in weight.
Making adjustments for how plant proteins digest somewhat differently from animal proteins,
The Vegetarian Resource Group arrives at .9 grams of protein per kilogram body weight.
That's about 71 grams of protein for a vegan male weighing 174 pounds.
Plant sources of protein are delicious, abundant, and very healthy for your heart.
Protein can be alkalizing!
Here's a list of 5 common vegetarian protein sources, and the amount of protein they provide:
EDAMAME (protein per cup = 17g)
Along with high protein and essential amino acids.
Edamame are also highly alkaline because of their magnesium content.
But be sure to buy organic, non-GMO edamame, because 90% of soy products are genetically modified.
HEMP SEEDS (protein per 2 tbsp. = 10g)
High in protein and loaded with heart health benefits.
CHIA SEEDS (protein per 2 tbsp. = 5g)
Loaded with Omega-3 fatty acids and protein means these tiny seeds can decrease the risk of heart disease.
BEANS (protein content per cup of mung = 49g; black = 39g; kidney = 43g; adzuki = 39g; lentils = 18g)
Of course, beans are high in protein, but they're also high in fiber,
iron, zinc, calcium and more.
QUINOA (protein per cup = 8g)
Even though we eat quinoa as though it were a grain,
it really isn't a grain at all. It's a seed.
The source plant is related to beets, spinach, and Swiss chard.
Whether you're fueling for your work day or fueling for a workout,
a little protein throughout the day, from vegan sources, really does go a long way.
More information can be found at
https://www.phmlife.com/
Remember to Always Be Fabulous!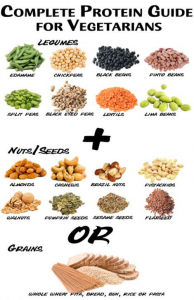 Luv Wendy
This post was posted in Health and Fitness