INSTANT GRATIFICATION - MOOD ELEVATING HEMP BALLS
Posted on December 8, 2013 by Wendy There have been 0 comments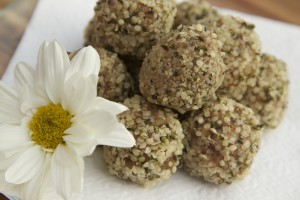 INSTANT GRATIFICATION - MOOD ELEVATING HEMP BALLS.
(photo credit to Superfoods Eateries)
So if you are not so sure what to bring to the company party for desert or just need a boost in the afternoon, try these :
Instant Gratification - Mood elevating Hemp Balls
They are a little chewy, a little nutty, a lot delicious. Instant Gratification can be yours with a delicious mood-elevating hemp balls. A perfect afternoon energy boost of medjool dates, cashews and hemp seeds.
INGREDIENTS.
8 Pitted medjool dates
1 heaping tablespoon of crushed raw cashews
1 heaping tablespoon hulled hemp seeds
1 heaping teaspoon coconut oil
You can add a couple drops of vanilla for extra flavour
FOR THE OUTSIDE DECORATION
1-2 tablespoons hemp seeds for rolling
DIRECTIONS
Blend all the above ingredients in a home blender, or a food processor, depends on what you own. Blend until all the mixture is starting to stick together.
All you do is now shape the mixture into 1 inch balls or whatever size you wish. 1 inch is best for bit size nibbles.
These hemp balls will be chewy and nice and soft if you eat them right away.
Super delish!!!
Recipes make about 6-8 balls.
BENEFITS OF HEMP SEEDS.
Hemp "seeds" are actually a fruit. They are round and tiny and have a a bit of a nutty flavour. They kind of taste like a pine nut with a more mild flavour.
Hemp seeds are a fabulous vegan source of easily digested protein. Hemp seeds contain all of the 10 essential amino acids and also are a healthy anti-inflammatory.
Hemp seeds are plant-based phytonutrients and rich in disease fighting nutrients.
An awesome alkaline food to help get you pH balanced.
Try sprinkling hemp seeds over a salad, as a topping on granola, puddings or other desserts. They can also be added to smoothies to give it a more nuttier flavour.
You can buy hemp sees at any natural foods store or if you prefer not to make the hemp balls, you can find them at Superfoods Eateries in Toronto, my health store of choice
Enjoy!
Luv Wendy
This post was posted in pH balance