Your Skin is Your Largest Organ - My Before and After
Posted on January 13, 2018 by Wendy There have been 0 comments
Did you know your Skin Is Your Largest Organ?
Everything gets filtered thru your skin.
All the toxins of the world, pollution, smoke etc,
build up on your face and can cause wrinkles and make
your face look dull and grey.
Looking after your skin is important. Not just your
face but all your body.
Make sure you drink enough water to keep it hydrated,
eat an alkaline diet and use a hydrating replenishing
skin care system.
I wanted to share a Before and After photo with
you of a journey I have been on this past year and a half.
So..... here's my before and after. Crazy aye!
A few months before our wedding a friend introduced me to a new skin care line.
I had seen her before and after photos and thought it was maybe a gimmick
but she sure looked awesome.
I have always been someone who took good care of my skin
with facial cleanser, toner, creams etc. so decided to give it a try.
I wanted to have a softer glow to my face for the wedding and after
a couple of months I really enjoyed my results.
I also had a couple of clients comment on how soft my face was looking.
After the wedding I decided to continue to use the products and
because I have mature skin over 50 I decided to purchase the
aging serum product and eye cream.
Then WOW happened!!
It felt amazing. The results were staring me back from the mirror.
I saw my face the other night after a relaxing bath and
decided to take some photos.
I had my Before photo still in my phone that my friend took
on the first day after a facial and I compared my After photo
and was definitely happy with the results
So I have decided to share with you
I am seriously considering taking on this product
thru Fabulous, Fit & Fantastic Living
The 1st photo is 1 year 9 months ago after a facial hence why a bit of redness
and 2nd photo was this weekend after a relaxing bath. Fabulous results!!
If you would like further information or hear more about what
I have used and done feel free to email me at wendy@wendyladd.com
I would be happy to share with you.
I don't want to be doing a sales pitch on my blog
Just wanted to show you the WOW!!
Keep on Being Fabulous!
Luv Wendy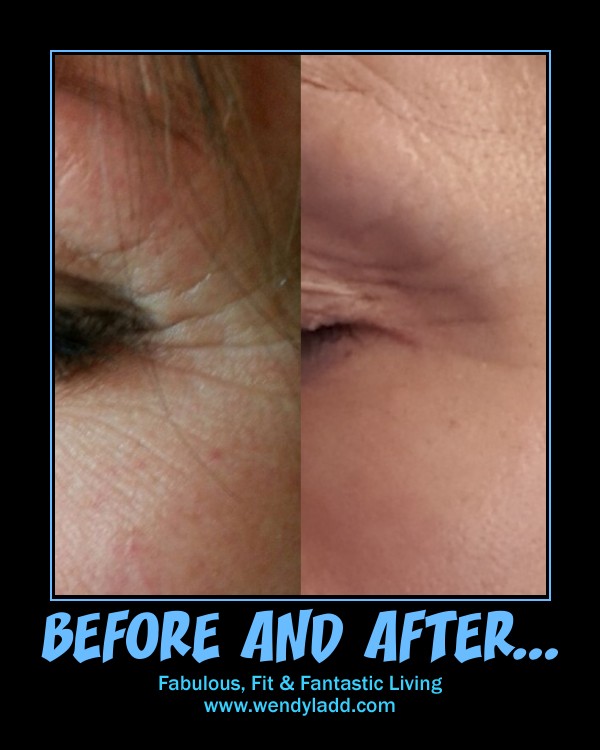 This post was posted in General